I must have a dozen different lip balms laying around my house and in my purse. Especially during colder months, I'm constantly reaching for lip balm to help prevent dry, chapped lips. One of my favorites is eos lip balm in sweet mint.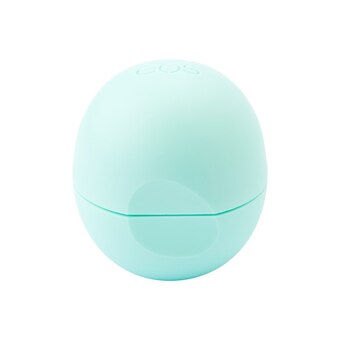 According to the eos website, the product is 100% natural and 95% organic. It contains ingredients like vitamin E, shea butter and jojoba oil to help keep your lips smooth and moisturized. It's also free of gluten, parabens and petrolatum and it isn't tested on animals.
The balm comes in a cute little egg-shaped package that's easily recognizable and easy to find if you throw it in your purse. The top twists off and you apply the product directly from the base. A pet peeve of mine is having to apply a lip balm using your fingers. Another convenient part of the packaging with this product is that the surface of the balm is large enough for you to apply it to your top and bottom lips at the same time. The product will also last you a long time.
The sweet mint balm has a really cooling effect on the lips and smells wonderful. (There are also six other kinds available, including summer fruit, lemon drop, strawberry sorbet, honeysuckle honeydew, medicated tangerine and pomegranate raspberry.) The product goes on clear and isn't greasy or thick. It provides excellent moisture. The balm doesn't feel caked on after you apply it. No matter how many times you run it across your lips, it feels like there's a very thin layer of product. It's great for everyday use and even better to help soothe chapped lips during winter. I keep one of these in my nightstand and apply it before going to bed.
Though eos lip balms are typically higher priced than other balms, I think it's definitely worth it for the pay off you get with this product. It's one lip balm you will make sure doesn't disappear on you!